VISUAL THINKING ist he graphical translation of
complex contents to clear images – and much more.
We are convinced that the use of visual thinking brings enormous benefits for you:
Complex topics become simpler to understand and comprehensible by sketching and individual documentation. We create a common image that equals the spoken word. During this process we generate more motivation and commitment.
The usage of metaphors generates a driving force and is the basis for innovation. Be sure everyone is going to talk about. Not only inside but also outside the company.
By accompanying meetings with our visualization all people involved are more attentive and get proactively involved. Your employees will be eager to bring in their ideas and are bursting with proactive engagement. Meeting will never be the same.
Visualization has another pro: Whatever has been decided will be definitely kept in remembrance and there's no room for misinterpretation.
By our visualization of situations, whole companies and processes, we also increase the employees' identification with the company, the company's aims and increase the commitment.
Visualization is fun! Be sure to experience a unique customer journey and receive a positive spirit for every project!
To sum it up, the special thing about visual thinking is its strong individuality and uniqueness. Together we create a creative product all participants strongly identify themselves with. Also, our visualizations are real eyecatchers. Most of our clients use them as decoration of the empty office walls to keep up the motivation experienced in the meeting. When passing, employees will automatically think of the milestones we achieved together.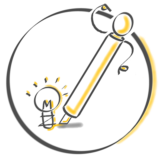 We visualize with Graphic Recording und Illustration
You are looking for a unique and sustainably motivating documentation? We accompany and visualize your meetings and processes. Together we bring the core of your company to paper. Why is this so powerful? Because the creative process is a mix of our experience, our expertise, humor, creativity and know-how. We visualize live during the meeting or based on our notes after the meeting, depending on your need.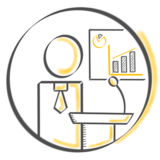 We accompany and moderate with Visual Facilitation
Be aware you are going to experience something unique: an event, a meeting, a project! We translate the process into a combination of words, images and effects and therefore give your process the needed drive! We do small group moderations or bigger events. Together we find the suitable method for your topic.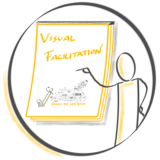 We train your employees – Flipchart and Sketchnote Trainings
You want to add a wow-effect to your presentation, and you are tired of the standard PowerPoint presentation that all follow the same scheme? You want to convince your clients with excellence? We provide the suitable tools to make impactful and memorable presentations. Structure, abstraction, the use of icons and graphical metaphors are the keys to a convincing presentation. That's what we teach.
"Bei me-tamorph-graphiX trifft fundiertes Business Know-How mit moderner Illustration und jeder Menge Spass bei der Visualisierung zusammen. Egal ob es sich um Meetings, Prozesse oder Produkte handelt – Markus versteht es, komplexe Strukturen schnell zu erfassen und in originelle und vor allem lustige Bildsprache zu übersetzen, die im Gedächtnis bleibt! Seine Illustrationen sind trendige Hingucker, die Business mit Kreativität verbinden"
www.facebook.com
Tanja Zinkl
Brand Owner & Artist
Get in touch!
We look forward to talking to you!